An API to convert coordinates to and from places
Easy, Open, Worldwide, Affordable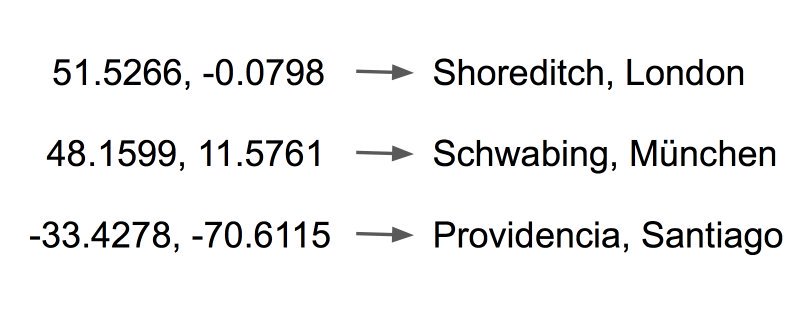 A trusted partner
Hundreds of satisfied customers worldwide

, tens of millions of requests per day

Here today, here tomorrow

. Funded by customers, not VCs - since 2013
Redundant EU data centers, fully GDPR compliant
All API requests via 256-bit SSL encryption (HTTPS)
Responsive customer support. Ask us anything
Proud corporate member of the OpenStreetMap Foundation
Great product
Many open gecoders behind a single API
Most

permissive licensing

in the industry

Cache results

as long as you like
No vendor lock-in,

display results on ANY map

Continual updates - OpenStreetMap has

over four million edits/day

"

Using open data has many benefits, doing it via OpenCage means one less thing for us to maintain.

"
Robert Theml
, Director,
SIXT Share
Affordable, predictable, transparent pricing
Generous free testing tier

No credit card required

at sign up
Subscription and one-time plans
No tricks.

Cancel anytime

, for any reason

No surge or usage charges

No long term commitment.

Pay as you go

Secure payment in all major currencies

"

Great value for money, and a responsive team. OpenCage has been a reliable partner as we've grown MileCatcher

"
Lars Boesen
, Founder,
MileCatcher
Learn how OpenCage is used in your industry